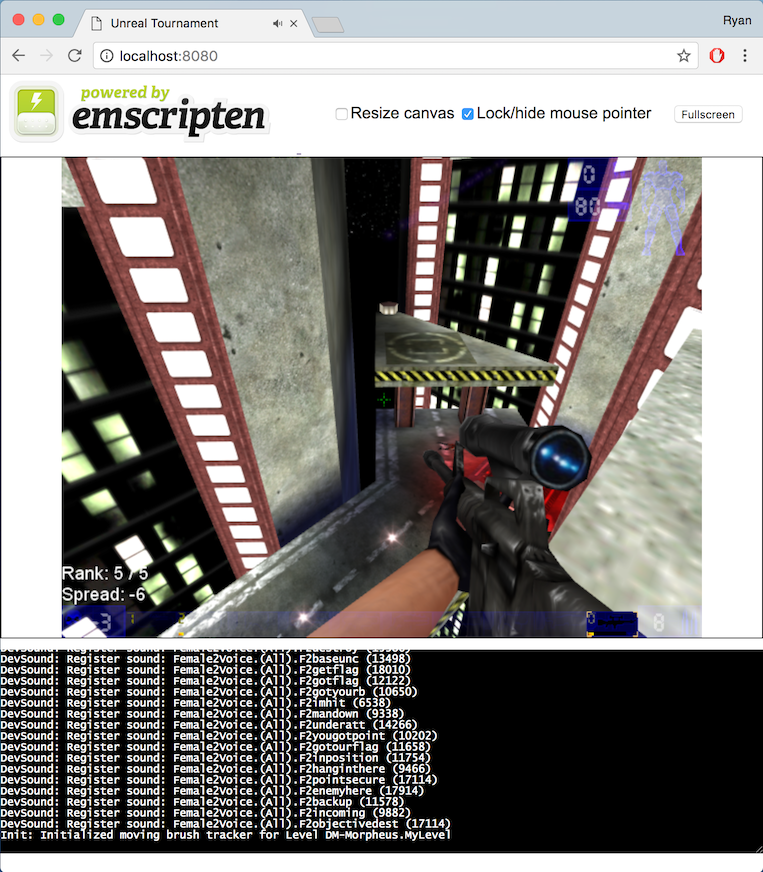 UT99/emscripten
A few warnings:
This is a 100 to 200 megabyte download, depending on what compression your browser supports, in case you want to back out now.
This is known to work on: Firefox, Google Chrome.
This is known NOT to work on: Mobile Safari, Desktop Safari.
This barely limps along on: Microsoft Edge.
This is just the intro flyby to show it works. The whole game is not included because it's a big download and not mine to give out.
This takes a while to start (it's still downloading when it says it's done, and takes time to process it all too).
Since there are files missing, the main menu crashes if you try to start a game. This is known.
The framerate could be much better with a rewritten renderer, but right now it's using the original fixed-function OpenGL code here.
This was built with Emscripten, SDL2, and Regal.
This wasn't done by Epic Games, and no one is selling/shipping/supporting this. It was just for fun. Don't bother Epic about it.
Did you know that the latest Unreal Tournament game is being developed as free-to-play open source? Check that out here!
Want to buy the real, native version of this game? It's on Steam, here.
You can find me on Twitter: @icculus.
--ryan.